Published: 24/04/2023
Our April sale got the buyers hooked with a collection of modern, mainly Filipino, art including a pair of oils of brightly coloured fish. Painted in 1987 by Ang Kiukok, a National Artist for Visual Arts in the Philippines, and measuring a tiny 12cm x 15cm each, the bidders took the bait of our "come buy me" estimate of £100-150 with the successful internet buyer reeling them in at £11,000.
Another Filipino artist, Soler Santos, was also represented with two works. It was the second outing for the artist here at the saleroom as we had sold several of his paintings in one of our sales in 2021. This time the paintings were on a larger scale than the previous works we sold and the fish at 92cm by 122cm and making just over £1500 each.

From the same part of the world our star lots of the Textile section were a collection of Chinese skirts. Consigned by a vendor whose mother brought them back from a stay in China in the mid 20th Century, the four were all different in colour and decoration. The standout was in teal coloured silk with beautifully embroidered dragon decoration making £1,200. A 1920's ermine-lined silk opera coat with embroidered Chinese panel decoration from the same home again, would have been a "Rolls Royce" piece in its heyday. It still made £420 even though it was moulting so much it had to be stored in our freezer!

The other highlight in the Textile section was a very large collection of buttons to include enamelled and bakelite examples, Dorset buttons and Satsuma versions. Nearly every kind of button was represented from the mid-19th Century onwards with possibly the only absence being any of the chocolate variety! The whole collection sold over 33 lots with a hammer total of £3,520.
The top lot of jewellery was a platinum and diamond bracelet set with twenty-one brilliant cut stones totalling just over 2 carats at £1,750, followed closely by a platinum mounted pale blue sapphire and diamond ring at £1,250.
You could tell that Spring had just about appeared and summer is on its way with the results of the garden furniture. All in weathered condition, a set of five sun loungers made £520, a modern Lutyens design teak bench £120 and a simulated cane work modular chair and table set fetched £280.

Moving indoors again, a great looking pair of walnut framed elbow chairs in the 18th Century manner with brown leather upholstery went for £300 and a large walnut partner's desk made £520. The modern OKA or OKA type pieces continue to sell well with the buyers of a plain side table paying £140 and £200 for a similar version.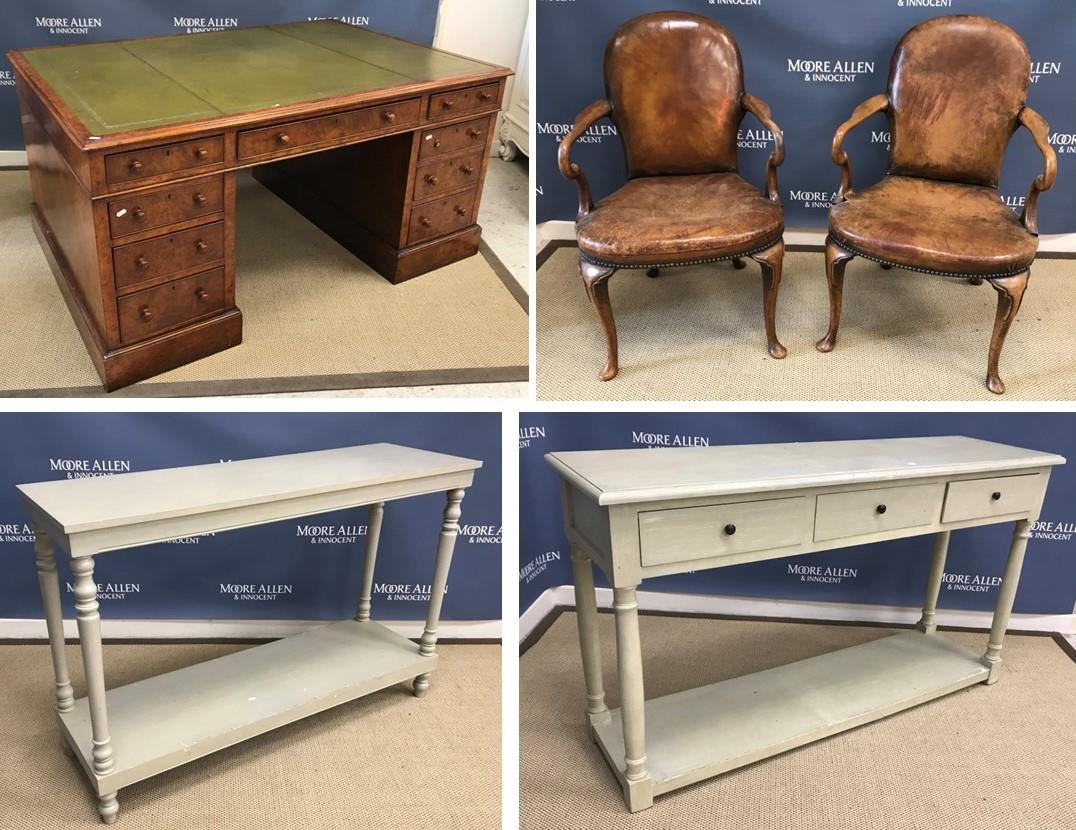 All lots are subject to a buyers premium of 21% plus VAT.